Allen Christensen – Deck of Dream Team 2013
Allen Christensen is moving into his 3rd year at the top level which puts him in a prime position for a breakout season.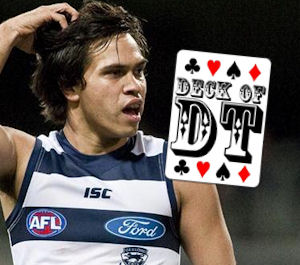 Name: Allen Christensen
Club: Geelong
Position: Mid/fwd
Assistant Coach 2013 Price: $381,200
Bye Round: 12
2012 Average: 74
2012 Games Played: 16
Predicted Average: 90
Why should I pick him?
Allen Christensen is moving into his 3rd year at the top level which puts him in a prime position for a breakout season on the back of averaging 69 and 74 in his first 2 seasons.
Before injury interrupted his season (torn calf and concussion via VFL return), Christensen showed glimpses of what we can expect in the future with an impressive ability to gain possession combined with a hunger to tackle. In round 4 he collected 23 touches and laid 8 tackles for 110 and backed it up the next week with 29 and 7 for 101. After missing a significant chunk of the season with injury, he managed to return to his best in round 22 for a season high 111.
Despite his obvious potential to score, only 3 100 point games for the year leaves Christensen heavily under-priced as he will at the very least double that output next year.
He has the added bonus of dual positioning this year which adds flexibility and significant value to his selection prospects.
In 2012 Christensen's injuries held him back from achieving his potential which included a pre season wrist complaint that left him entering the season under done. If this young gun can stay injury free, look for a significant rise in average .
Why shouldn't I pick him?
With so many dual position options out there this year, it is hard to justify a price tag of over 380,000 for a player who is yet to prove their worth as a consistent fantasy performer.
Although I think he will avoid it on most occasions, Christensen has been known to don the vest at times which can be a source of huge frustration.
When he is playing well, he is a match winner which can prompt the opposition to play a tagger on him causing a significant drop in his scoring ability.
Deck of DT Rating.
Queen – I think Christensen is well worth a look and earned his Queen status by the fact I think he can average 90. He will be a unique selection but is certainly one that may pay off and with the added bonus of dual position status the reward should outweigh the risk in my opinion. If he has an injury free run through pre season, keep him in your list of 3rd year breakout candidates.
FOLLOW ME ON TWITTER: @RoyDT for all things DT. Got something to say about the deck? Use the hashtag… #DeckofDT.