Beau Waters – Deck of Dream Team 2013
Beau Waters is a man's man, constantly crushing packs, skulls and the dreams of his unlucky opponents. However, he does have a Kryptonite: Injuries and the Match Review Panel. Tbetta investigates whether you should pick him in your starting squad.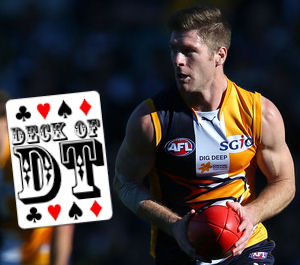 Name: Beau Waters
Club: West Coast Eagles
Position: Defender
Assistant Coach 2013 Price: $472,100
Bye Round: 12
2012 Average: 91.6
2012 Games Played: 19
Predicted Average: 86
Why should I pick him?
Because he makes Glenn Archer look cowardly and Josh Hunt look like a metrosexual. If that's not convincing enough, Waters is coming off a career-best season, averaging 91.6 points per game – eclipsing his previous best of 87.5 in 2010. He also turns 27 this year, meaning that the fearless Eagle is in the prime of his career. On top of that, Waters one of the best intercepting Defenders in the game, generating 70% of his points (or 64 points per game) from marks and kicks alone. Backmen can typically drift in and out of games depending on their team's fortunes, but Waters' booming left boot and critical cut-off role means he generates enough of the footy on his own accord to keep his scores up.
One major misconception of Waters is that he's inconsistent. Whether that comes from his prior injury/suspension record, or the way he seems to scores in patches, I don't know. But the stats don't lie; Beau scored less than 79 points in only 3 of his 19 games in 2012, and these all came after his late-season knee injury. In fact, before that injury, he averaged  97.4 per game with a low of just 79.
Picking Waters also works well with the bye situation this season. West Coast shares the Round 12 bye with Geelong, Melbourne, North, St. Kilda and Sydney, which leaves just Grimes and Enright as the only two other defenders who averaged over 80 last season that will also be out of action that round. With a Best 18 system in place for the MBRs, byes aren't as critical as they were last season, but they are definitely not to be ignored.
The likelihood of West Coast having a strong season also bodes well for Beau's scoring. They're currently 3rd in Premiership betting, and coupled with my personal prediction that the Eagles with be the break-out DT side of 2013 (much like Richmond last year), this could result in a further increase in scoring to an already very capable fantasy backman.
Why shouldn't I pick him?
 His availability is a huge concern for coaches. He missed 3 games last season, two through injury and one through suspension. Add in the fact that he played just 8 games in each of the 2008 and 2011 seasons, and missed the entire 2009 campaign, and it's not pretty reading for any prospective buyer.
That's not even taking into account the ankle injury he sustained during the Finals series last year, or the hip surgery he is still recovering from. While he should still play Round 1, I find it difficult to pick a player without a decent NAB Cup showing at an absolute minimum.
It's purely speculation at this point, but there is talk that Glass may step aside as Captain, leaving the mantle open for Waters to take a crack. I honestly don't know whether this will be a good thing or a bad thing for his scoring, but it's worth keeping in mind if it does eventuate.
Deck of DT Rating.
QUEEN – There's no question that Beau Waters is the bees knees when he's fit, but selecting him knowing his track record with injury and suspension is always going to be a risky move. We've got away with it in seasons past on a value basis, but he's priced like the Premium he is this year.
The fact that he's still recovering from hip surgery on top of a fresh ankle ailment and the lingering threat of further elbow concerns is enough to scare me away at this stage, and it probably offsets his tempting Round 12 bye. After his knee injury last season he averaged 81.7 per game, and it's this kind of output that I see being the norm in early 2013 with a limited pre-season, rather than the 90+ average that he's clearly capable of.
VISION: Beau Waters Tough Moments
FOLLOW ME ON TWITTER: @Tbetta9 for all things fantasy.