Andrew Embley – Deck of Dream Team 2013
He only played 6 games this year. He ended the year with scores of 94, 121 and 93…. and he'll be priced at an average of 57, with a possible discount! Embley is one of the biggest bargains in 2013 and Calvin will explain why! Get in there.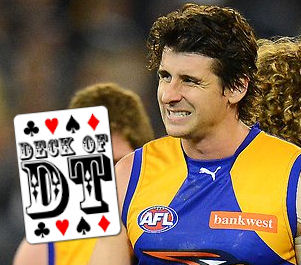 Name: Andrew Embley
Club: West Coast
Position: Midfielder
Assistant Coach 2013 Price: $264,300
Bye Round: 12
2012 Average: 57.0
2012 Games Played: 6
Predicted Average: 88.0
Why should I pick him?
Andrew Embley is the first player covered this year in the Deck of DT that shows unreal value for money. He should be discounted on the 57 he averaged in 2012, making him one of the best value for money picks.
So let's reflect on what went wrong for Embley in 2012. Firstly, the dude played just 6 games (8 if we include finals). In these games, he wore a vest 3 times and missed 18 games due to a dislocated shoulder. After having surgery, he returned in Rd. 20, only to find himself in the dreaded green vest once again for his 35pts.
Once he returned, Embley recaptured his DT form of old scoring 94pts (28d) in Rd. 23 and 121pts and 93pts in the Elimination and Semi Finals (avg. 103 in his last 3). The dude got it going! Now, if we include all the 'full' games he played this year (excluding vests), he would have averaged 91. His scores in the finals, do not count towards his average/price in 2013… ummmm, get my drift? No? He's a bloody bargain!
Embley is a proven gun DT scorer. In 2011, he averaged 94 from 21 games and average 92 in 2010 from 20 games. In 2011, he scored 8×100+ scores with 5 of them being over the 120+ mark.
Plus, he's a cool cat – just watch the video here and you'll love the man! "You ticklish?"… "Dare you to touch me" . Ha ha what a legend and what a great man to have in your DT.
There is no doubting it whatsoever, he is a must have as a cheap option in you now extended midfield. With your line there going 8 deep, there's plenty of room for a guy like Embley.
Why shouldn't I pick him?
He's old. Embley will turn 32 in 2013 and is certainly at the end of his career. The plus side to this is… the Eagles still must want him playing a big part as they set him for the finals series last year where he played full games and dominated.
Is it time for the old vet to step aside and let the young Eagles blood flow through? And does this mean more vests for the old duck in 2013?
Deck of DT Rating.
QUEEN – This guy might average you 85+, he may even push the 90+ mark like he has in previous years. He will be massively underpriced and ready for the picking in 2013. Yeah, he's ripe (old) but I can tell you now, the way he returned late in 2012, you'd be mad not to have him on the radarrrrrrr. He's certainly on mine, and pretty much locked in.
FOLLOW ME ON TWITTER: @CalvinDT to chat all AFL Fantasy and pirate stuff.