Get Off The Bench: Round 9
Most of us will have a few choices to make this week with the Gold Coast having their second bye of the season. If you are like me you still have a few of them in your side and they have a little more fattening up to do before you can sell them. So here are my suggestions for who you should be playing on the park this week….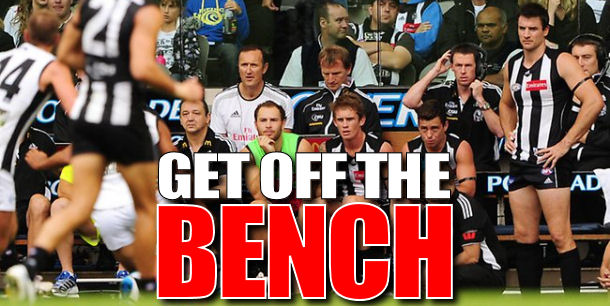 So for the second time this year we are without our stars from the Gold Coast whilst our stars from Essendon, Richmond and Port Adelaide are yet to have a breather.  But given their price, most of us would have far more GC players than the other teams combined so this week is going to be another challenging week to find the right mix of players to put on the field and not on the bench!  Along with that there are injuries and suspensions to worry about, so if you can get 22 fit guys on the park you are doing well.
Defenders
Nick Smith is one guy that I must say I didn't know alot about but his scores this year have been nothing short of impressive.  He has a pair of 87's in the last two weeks and is averaging 75 on the season.  With the way Sydney are playing I can't see this changing so play this guy.  With the Eagles up and running Mark Nicoski has backed up his pair of 90's with a 75 in the Derby last week.  Another solid choice.  One guy who I said I wouldn't mention was Heppell because he was so consistent.  He did have a downer at 59 last week, but he is still a lock until his form drops to this level consistently.  Hibberd is someone that just seems to be having trouble getting a game for some reason.  He has had a 72 and 68 and a lot of promise!  With the injuries and suspensions that Essendon have at the moment he should get a game every week if you ask me, but Hirdy must have lost my number.  So I wouldn't hesitate playing this guy either.
Stefan Martin had a great game last week as he had to come in and take over some of the big man duties and he smashed out a 108.  His form before that was ok but inconsistent.  The Dees are up against the Saints who lack in the big man area so he should be a safe bet to score fairly well this week.  Simon Buckley has had an indifferent start to the year and then comes out with a 98 last week.  I don't expect this to continue, but with the Pies against the Crows this week he may get some more cheap posessions this week.   Another of my inconsistent crew is Jesse O'Brien he has been fairly average since the Lions bye, and even won the not-so-coveted green vest two weeks ago.  He had 67 against the Bombers but I am still not convinced. 
DTTalk favourite Brodie Smith was doing well for DT coaches until he must have not cleaned Craigy's gutters or forgot to bring his bin back in for him last week because he also suffered the Green vest curse and got 11 pts which also brought with it a $10k drop in price!!  I think he will have a solid game (the ball will be in the Crows backline for a while this week I think) if he avoids the vest so Brodie, be nice to Craigy this week.  His teammates McKernan and L Thompson scored in the 40's which is about on par for them.  I think we have seen that Thompson's 96 was a one off occurence with his other 4 scores in the 40 – 59 range.
Nick Duigan comes back this week after the bye and is up against the Cats on Friday night, this will see the ball down his end a bit I reckon and he should score well.  He started to ease off before the break with a 53 and 43 before a 77 to end the run before the bye.  So I think his scoring should be up around the 65 mark again this week, but his BE is up around that area too so perhaps check out Chooks Rooks to see if you can downgrade him.  Paul Puopolo backed up his good first game with an 85 that I believe was literally on one leg.  So he should be another good bet if he gets a run.  It is a Sunday game so check the team lists on Friday night to see if he gets a gig.  Speaking of Rookies, Ben Jacobs had a 53 in his first outing for the Power and looked ok to me.  A lot of people (me included) brought this guy in last week so we could downgrade Grimes to upgrade Curnow.  I think he certaily looks like a good player and scorer but I would bench him unless you need him on the park to cover a donut.  In that game we will have Nick Lower who got red-vested last week.  I would still play him.  Against his old side this week he should run a muck and score fairly freely.
Jake Batchelor did ok for the Tigers with 52 after 83 the week previous. But this guys scores read like a yo-yo demonstration 39 26 52 69 31 83 52, he is up and down but mostly down, so leave him out.  Lastly Lukas Markovic is a guy that is popular amongst coaches but I wouldn't play him.  He has a pair of 31's now and that ain't enough for me.  Sam Reid from the Swans had a good score last week, but that was his best by a long shot.
Midfielders
Matty Wright from the Crows belted out a 116 against the Suns, but beware he has a 60 and a 54 in the previous two and has been known to wear a green vest for 27 although that was his first game, but that may mean it is his turn again.  He has been pumped up in the papers in Adelaide this week, but that doesn't mean much.  Rohan Bewick didn't inspire upon his return with 48 this week.  It was his second lowest score with his best being a 73 in round 2.  I am concerned about this guy and his ability to score big.  If you have other options, use them.
Andrew Krakouer dropped back to 66 after his 113 before the bye.  So I just don't know what to make of him.  If you asked me before the season I would have said that 66 would be a good score from a guy at his price so we should be happy with that, but when you know they can knock a big score out it is frustrating!  Whilst we are on big scores, Stewart Crameri has been doing that but he only got 80 last week (with 35 or so of them in the last quarter last week as I was watching his scores closely due to my opponent having him and I don't so I was keen for his bad game to continue!).  He has 3 hundreds to his name but also a 55 and a 67 in full games and a red vest 50 so beware he won't score fantastically each week, but he has a lot of potential and I would play him if I had him.
Shane Savage was this weeks rising star nominee and could have won the more coveted Golden Stubby too after his 144 point effort on Sunday against the Saints.  Prior to that his average was 57.  As with many others, I don't know if he can back it up as they are playing the Swans this week so be careful.  Shaun Atley had his lowest score of 33 this week, but he is at the other end from Savage as they are playing the Lions this week so he should rebound with a nice score.  Reece Conca was great with another 80 this week and he is now gaining some consistency in the 70's and 80's.  He is another good bet for a reasonable score this week against a depleted Bombers unit.
Thomas Liberatore racked up a a tidy 100pts last week and this was off the back of his worst which was a 62.  This guy is solid and play him if you need to as he will get somewhere above 70 if you ask me.  His mate Mitch Wallis just doesn't seem to be coming along like all had hoped.  His scores of 10, 70 and 39 haven't inspired like Libba's have.  Both of these guys are on the extended bench so check them on Fri night.
Isaac Smith has put in two nice games with an 89 and 59.  However, he is OUT with General Soreness!!!
Other guys of note, but they don't seem to have the consistency are  Dylan Addison from the Dogs whith 78 to follow his only other score of 57 and our perennial Green Vester (he has 5 of them in the trophy room now) UPDATE: He has now pulled out of the side.  Andrew Gaff who had 29 in the last quarter and a bit.  However, he is on the extended bench AGAIN, but I don't think he will play.
Forwards
Guys that we have already discussed above that are eligible here include Shaun McKernan, Jesse O'Brien, Lukas Markovic, Andrew Krakouer and Isaac Smith.
Luke Breust made a stunning debut for the Hawks, but then again everyone scored well for the Hawks.  He had 70pts with a green vest, however, he was on within the first minute after Gilham went down.  I want to see another game from hm before I would trust him.  Luke Tapscott who was one of our favourite rookies this year, and he has been letting us down of late with a poor 36 last week.  This was his worst score of the season and he has pretty much peaked so he will be on the chopping block of every team this week!  I will be trading him, but if I kept him I would be benching him if I had the choice.
Keiran Harper has had a stunning debut with 61 but a 40 and 54 following that.  He is a fairly safe bet but not your best bet.  Another new guy is Arryn Siposs at the Sainters, he has a tidy 31 and 55, but not enough to be fantasy relevant.  Alex Johnson from the Swans isn't that fantasy relevant, but he had a 66 a couple of weeks ago.  Last week he came back to earth with a 35.
Brennan Stack went back to his normal form this week after his 96 of the previous week.  Personally I don't have this guy and even if I did I wouldn't be playing him, too much of a risk.
Our Stud is making his last appearance on this list as I rate him as a must play each week now and he is going to remain in my lineup now for the rest of the year as far as I can tell.  The only player I can be talking about is Jack Darling.  He had 77 in the Derby and is moving along very nicely.
As you can see, the choices in the forward line are once again fairly thin!
I got a couple of questions on Twitter this week @pkd73.  @Shintage had a question that I think alot will have this week, who to play out of Tapscott, Darling, Petrie and Krakouer.  For me it is Darling every day of the week then probably Krakouer this week as he is up against Adelaide with Petrie playing the Lions and will be up against Merrett up forward and Leuenberger and Clark in the ruck so I don't know that he will score as freely as Krak might. 
 Here are my recommendations for this week.  I hope that they bring you luck.   Remember Heppell is now ineligible for this list.
Defenders
Nicoski

Buckley (because they are playing Adelaide)

Lower (because they are playing Port)
Hibberd
Stefan Martin
Duigan
Puopolo
B Smith
Jacobs
L Thompson
Reid (swans)
O'Brien
Midfielders
Conca
Crameri
Savage
Krakouer
Liberatore
Hibberd
Wright
Jacobs
Atley
Forwards
Darling 

Krakouer
Harper
Tapscott
McKernan
O'Brien
The choices are a little thin this week, particularly with the Gold Coast guys out and we have lost a few guys to injury and poor form.  But there is a fair bit of fresh meat this week so we will have a few more guys to talk about next week particularly with Tendai Mzungu getting a game.  Personally I think he will win a game as well as a Green Vest.  I will be seeing him in the flesh so will report back next week.  I will tweet about him on Sat avo (if I can get a network connection at AAMI for a change) so follow me at @pkd73.