More News
Roy looks at some guys with a high ceiling as well as highlighting today's value pick in Moneyball's $50k Saturday Special
More Posts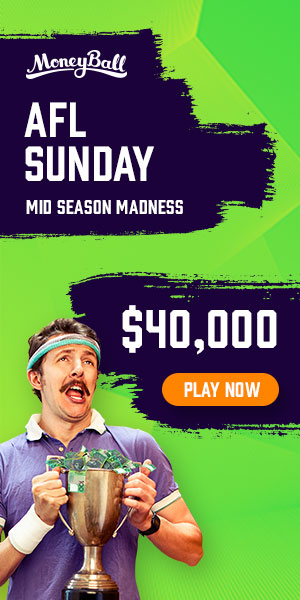 My Team
Discuss your moves and any other Fantasy related topics ahead of round 18.
Recent Comments



Lockout Chat – Rd. 18 (16)

The Cricket: Yep so did I. Can't believe I did that.
llizardofoz: Nope. He copped a lot of attention and even had frees awarded against him when...
Jono: Your telling me, I had him as captain. FML
The Cricket: Cripps. Pfft. What a plonker.
Andy: Was thinking of taking Cripps. Glad I didn't. 20 at half time.
The Cricket: A high scoring Friday night sets us up nicely in good spirits for the fantasy...
Marcus: Ow and last night was probably the best start to a Round I've ever had with B...
Marcus: Well done Calvin. O'Brien was the best scorer and well done on the advice of...
Toad: exactly the same situation and trades. Good trades, points on ground and instant reward
Jay: 1) cong and Rozee out for Murphy and e Curnow $0 2) cong and o baker out for Taranto and...